Revenue Secrets of Top LinkedIN "Power Users"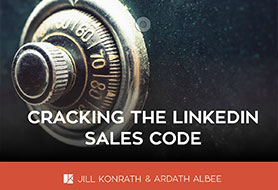 My friend Jill Konrath teamed with Ardath Albee to launch a LinkedIn survey you won't want to miss. It outlines how top sellers are generating leads and more sales using LinkedIn.
"Cracking the LinkedIn Sales Code" contains sobering statistics on who is using LinkedIN, and what separates top sellers from laggards. They also included a wealth of case studies and free resources. Download your copy today.
Copyright 2013, Lisa Nirell. All rights reserved.